#nationalgardeningweek.
I have been sent some photos so what better time to show you.
Please do email a photo this week      .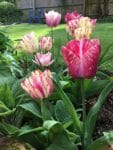 Nice little review on the hot bin
As advertised in the RHS magazine.
We are so pleased with ours. Reaches 120* on warm days!
Compost in 6 to 8 weeks at this time of year.